Fonkfish is een nieuwe band met een aantal oude bekenden uit de Roermondse muziekscene.
Marcel Jansen (Jesus Jansen, Colorful People), Pascal Hoeke (Sniffer, Ms. Rose), Paul Klaessen (Phone Home, Slowpoke Rodrigo) en
René Ubachs (Mo and the Family T, Honky Soul) hebben elkaar gevonden in hun gezamenlijke passie voor 'Funk'.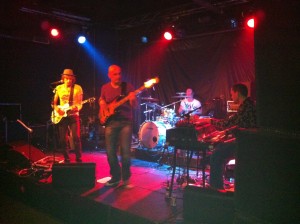 Tijdens 'Roermond Swingt' brengt Fonkfish voor het eerst hun repertoire van funknummers uit de jaren '70 live ten gehore.
Denk hierbij aan the Average White Band, Temptations, Headhunters, War, Sly Stone, Prince, en the Ohio Players.
Maar dan wel uitgevoerd op hun eigen eigenwijze manier.Dat wordt dus swingen op lekkere dansbare grooves met een vette knipoog naar de Funk van de jaren '70!